Murphy Anderson to be Awarded Branton Outstanding Achievement Award for Worker Advocacy
June 24, 2019
Murphy Anderson PLLC will receive a Washington Lawyer's Committee Outstanding Achievement Award at the Committee's annual Branton Awards Luncheon on Wednesday, June 26.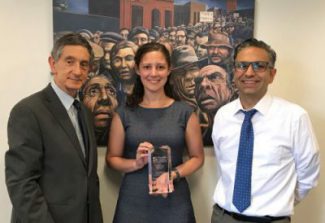 Since the 1930s, workers performing construction work on federal public works contracts have been protected by prevailing wage laws, which ensure that these jobs pay a decent wage with benefits. In Washington, D.C., local wage and hour laws require that companies performing work on District-funded public works contracts pay construction workers at the prevailing wage rate.

Despite these statutory protections, contractors often fail to comply with these requirements. Under the federal law, only the Department of Labor can enforce the law. The District of Columbia sought to create an avenue for individuals to recover prevailing wages, but the viability of the law has not been tested.

In Garcia et al. v Aves Construction, et al., Murphy Anderson attorneys Mark Hanna and Roseann R. Romano along with the Washington Lawyers Committee and Sherman Dunn P.C. represent some 48 laborers who were paid less than the prevailing wage rate and sought to recover unpaid wages through litigation in the Superior Court.

The case has resolved with the entire class of workers receiving more than two times the wages owed to them and the litigators laying the legal foundation for decisional law that workers performing public works contracts may seek unpaid prevailing wages through litigation.

The two lead plaintiffs in the case deserve much credit for their bravery and solidarity with the entire class. A testament of their commitment to justice, they rejected individual settlement offers early in the litigation and pressed forward to obtain unpaid wages and damages for the entire class of workers.